There are a number of prescription weight loss medications now available, working in a range of different ways to help people lose weight. Amongst the most recently approved is Saxenda. Saxenda takes the form of a daily self administered injection intended for those with a BMI of over 30 (or 27 to 30 if accompanied by certain other medication conditions).
Its active ingredient, liraglutide, works by suppressing the appetite and trials clearly show that this can be incredibly effective.
However, there are a number of reasons those looking to lose weight might want to consider saxenda alternatives:
Saxenda is more expensive than many other weight loss medications on the market

Some people simply don't like injecting themselves

Some people experience side effects like nausea, vomiting, insomnia or indigestion
Whatever your reason for wanting to consider a saxenda alternative, we've rounded up your options right here.
Summary of Saxenda Alternatives
This is by no means an exhaustive list but here are some useful saxenda alternatives you may wish to look at.
 

How does it work?

Prescription Required?

Saxenda

The active ingredient, liraglutide, is an appetite suppressant

Yes

By decreasing the amount of dietary fat that absorbed in the intestines

No – the lower dose Orlistat pill can be obtained from a pharmacy without prescription

Orlistat (120mg)

By decreasing the amount of dietary fat that absorbed in the intestines

Yes

Berberine

Studies show promising weight loss potential in humans (albeit with more research required). Experts believe the weight loss is the result of the fact that berberine helps improve the function of "fat-regulating" hormones like insulin and leptin.

No

Wegovy

Similarly to Saxenda, it mimics the hormone in your brain that affects your appetite and keeps you feeling fuller for longer.

Yes

Bariatric Surgery

By restricting the size of the stomach so as to make it incredibly difficult for you to overeat

Medical referral required and intense assessment.

 

This is a lifetime commitment.
Here is a bit more information about each of these alternatives.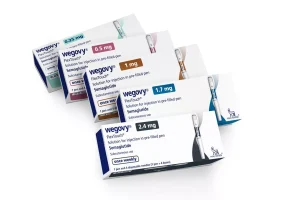 Wegovy and Saxenda are often compared to one another as they work in similar ways and have similar prescription requirements  
Wegovy is a weight loss injection that contains the active ingredient semaglutide, which replicates the GLP-1 receptors in the brain. This helps the patient feel fuller for longer and reduces the appetite. 
Wegovy, unlike Saxenda, is injected once a week, whereas Saxenda is injected everyday. Both should be injected into the upper arm, stomach or thigh. 

Wegovy was approved for licensing in the UK in January 2023 and as of September 2023 is available on prescription through the NHS. 
Alli/Orlistat
Orlistat is the active ingredient in both of these medications (and another branded 120mg version known as Xenical). Orlistat works by reducing the amount of fat that is absorbed in your intestines.
It's a lower cost medicine than saxenda and takes the form of a capsule you swallow, so there's no need for the daily injection. 
Alli is a lower (60mg) dose version that you can get without a prescription, while the 120mg version requires a prescription. 
Many people who take Orlistat find that, if they consume high fat foods, they'll suffer diarrhoea so it's highly recommended that you adapt your diet with this medicine.
Berberine
For those who would rather look at natural options before trying prescription medication, we'd always urge caution. Lots of supplements (capsules, teas and so forth) that are billed as "fat boosting" or essentially as miracle weight loss solutions have absolutely no scientific backing.
However, Berberine is slightly different. Studies have shown berberine to be as effective, in some cases, as metformin in helping regulate glucose levels in diabetes patients.
But there's some really interesting results from studies into the use of berberine for weight loss as well.
There have been two studies of note so far with results that really warrant our attention.
The first was a 12 week study which had obese participants take 500mg of berberine 3 times daily. It resulted in an average weight loss of around 5lbs over that time (and approximately 3.6% of their body fat). That's not insignificant at all.
In a study of 37 people with metabolic syndrome, participants were asked to take 300mg of berberine 3 times a day for 3 months. At the end of the study, the average BMI of the participants had dropped from 31.5 to 27.4 and they'd also lost belly fat and improved other important health markers.
So we shouldn't overlook the potential of this supplement to help and if you'd like a saxenda alternative that isn't a prescription medicine, this could be one to try.
Cognitive Behavioural Therapy (CBT)
CBT is more about getting to the root cause of your weight gain and trying to change those behaviours.
Studies show that, alongside positive lifestyle changes like improved diet and exercise, CBT can assist in creasing weight loss.
This isn't an overnight fix, of course. And you may have already attempted talking therapies but found them ineffective for you personally.
However, if you are attempting weight loss through lifestyle changes and don't want to see medical options at this time, CBT alongside a diet and exercise regiment shift could be a saxenda alternative to try.
Bariatric Surgery
Very much a bigger commitment than medicines, bariatric surgery is the surgical reduction in the size of your stomach to make it incredibly difficult for you to overeat. 
There's a relatively long process to go through before being approved for such surgery on the NHS. And privately, costs will be high.
This is usually considered something of a last resort for those who've tried diet and lifestyle changes, medication and other methods without success.
Alternatives to Saxenda
Saxenda shows incredible promise in the treatment of obesity. But there are certainly alternatives. Before embarking upon any type of medication, speak to a medical expert.
If you're looking for prescription weight medication but don't yet have a prescription, you can simply start an online consultation by completing a simple form. Our qualified practitioners will then review your information and prescribe treatment where appropriate the same day.